Bucks County (pop. 625,249) is east of Montgomery County, in the southeastern corner of the state. It's the fourth-most-populous county in Pennsylvania, and has been growing in every decade since 1790.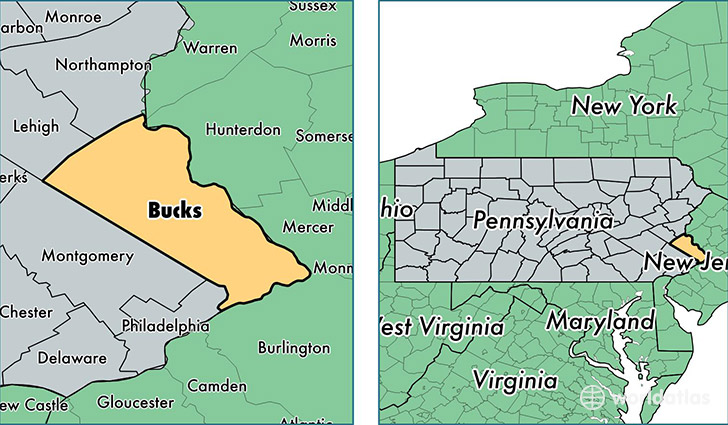 The only Bucks County in the U.S., it was named for the short version of the English county of Buckinghamshire.
The county seat of Bucks County is Doylestown (pop. 8,380), birthplace (in 1979) of the singer Pink.
Oscar Hammerstein II, lyricist of such Broadway musicals as "Show Boat," "Carousel," and "The Sound of Music," lived at Highland Farm in Doylestown from 1940 until his death in 1960. He was born in New York City in 1895.
Fonthill Castle in Doylestown, built in 1908 for archaeologist and tile maker Henry Chapman Mercer, was constructed of poured-in-place concrete. It has 44 rooms and 10 bathrooms.
The largest community in Bucks County is Levittown (pop. 52,983), planned and built by Levitt and Sons in the 1950s, shortly after the first Levittown (on Long Island) was built.
Bucks County has 10 covered bridges that are still open to traffic.
The borough of Yardley (pop. 2,434) has a house made of shipping containers.
In Bensalem Township, outside a casino and racetrack, is a 34-foot-long, 25-ton statue of a severed horse's head.
NEXT: ?