Wayne County (pop. 68,917) is south of Randolph County, on the border with Ohio. It reached its peak population of 79,109 in 1970.
It's one of 16 Wayne counties in the U.S., all named (directly or indirectly) for Gen. "Mad" Anthony Wayne (1745-1796), hero of the Revolutionary War.
Hoosier Hill (elev. 1,257 feet), the highest point in Indiana, is in the northeastern part of Wayne County. It is on private property, but there is a trail to the "top."
The county seat of Wayne County is the city of Richmond (pop. 36,812), home of the Indiana Football Hall of Fame.
At various times in its history, Richmond was known nationwide for lawn-mower manufacturing, school-bus manufacturing, and rose-growing.
Richmond has also been called the "Cradle of Recorded Jazz." Gennett Records was the first to record Louis Armstrong, in 1923, and Hoagy Carmichael first recorded "Stardust" there, in 1927.
Richmond has a Glen Miller Park. Located in a narrow valley (or glen), it was named for Col. John Miller, the land's original owner.
Richmond is the home of Earlham College, a liberal arts college associated with the Quakers (established 1847, 1,000 students) and Indiana University East (established 1971, 4,500 students), part of the Indiana University system.
A natural gas explosion in downtown Richmond in 1968 killed 41 people and injured more than 150. Fourteen square blocks were destroyed or damaged.
Richmond built a five-block pedestrian mall on Main Street a few years later, but it was reopened to vehicle traffic in 1997 in an effort to revitalize downtown.
The Richmond School was a group of Impressionist artists who worked in the Richmond area in the late 19th and early 20th centuries. The Richmond Art Museum has a variety of American Impressionist works.
The museum is located at Richmond High School, and so is the fourth-largest high school gym in the U.S. (and in Indiana), which holds 8,100.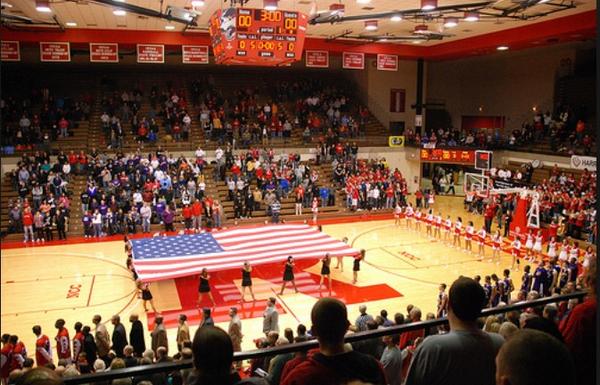 Richmond has two of Indiana's three Egyptian mummies. They're located at the Wayne County Historical Museum and at Earlham College's Joseph Moore Museum.
The nearby town of Centerville is the home of "The World's Largest Candle."
The town of Greens Fork, northwest of Richmond, was the birthplace, in 1850, of Old West outlaw Johnny Ringo . He died in 1882, somewhere in the vicinity of Tombstone, Arizona, possibly shot by Wyatt Earp.
NEXT: HENRY COUNTY