Berks County (pop. 411,442) is west of Lehigh County. It's the only Berks County, and it's been growing in every U.S. Census since 1790.
The county was named for Berkshire County in England, which was the home of William Penn's family.
The county seat of Berks County is the city of Reading (pop. 87,575), fifth-largest city in Pennsylvania. Reading (pronounced REDD-ing) reached its peak population of 111,171 in 1930.
Pulitzer Prize-winning author John Updike (1932-2009) was born in Reading and grew up in the nearby community of Shillington.
Singer Taylor Swift was also born in Reading, in 1989. Her family moved to Nashville when she was 14.
Reading is well-known for its pagoda, atop Mount Penn, overlooking the city. The seven-story wooden building dates from 1908. Owned by the city, it contains a small cafe and a gift shop.
The Reading Railroad operated in southeastern Pennsylvania and adjacent states from 1924 until it went into bankruptcy in the 1970s.
Reading has been known as "The Pretzel City" because of its many pretzel bakeries.
The Reading area is credited with having the first multi-store outlet center in the U.S. – the Vanity Fair center in 1974.
The Reading Fightin Phils, AA-Eastern League affiliate of the Philadelphia Phillies, play at FirstEnergy Stadium (1951).
The bow anchor from the U.S.S. Maine – sunk in Havana harbor in 1898 – can be found in Reading's City Park. Franklin Roosevelt, then Assistant Secretary of the Navy, was there to dedicate it in 1914.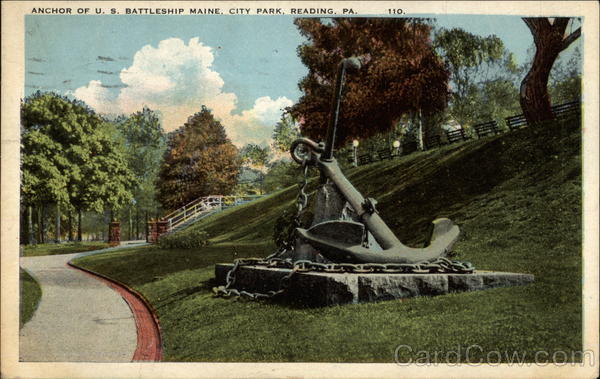 The community of Centerport (pop. 387) has a literal fork in the road at a local intersection.
The birthplace of Daniel Boone (1734-1820) is in Berks County. There's a museum and a historic house, administered by the Friends of the Daniel Boone Homestead.
NEXT: LEBANON COUNTY