We begin our tour of Pennsylvania's 67 counties in Erie County (pop. 280,566), in the state's northwestern corner. It is the state's only county on Lake Erie, and the only Pennsylvania county that borders Canada (across the lake).
The county was named for the lake, which was named by the Erie people, an Iroquoian group who lived along the southern shore. The only other Erie counties are in New York and Ohio.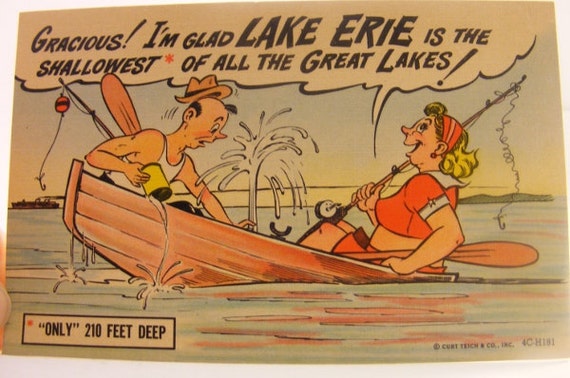 The county seat of Erie County is Erie (pop. 101,786), Pennsylvania's fourth-largest city. Erie reached its peak population of 138,440 in 1960.
The 14-story Renaissance Center (1928), formerly the Erie Trust Company Building, dominates the downtown Erie skyline.
The Old Customshouse (1839) is now part of the Erie Art Museum.
The Warner Theatre (1931) closed as a movie theater in 1976. It's now the home of the Erie Philharmonic and a variety of other concerts and touring shows.
The Lawrence Park Dinor (a northwestern Pennsylvania variation of "diner") has been in operation since 1948. It was manufactured by Silk City Diners of Paterson, N.J.
Erie is the northern terminus of the 343-mile Interstate 79. The southern terminus is Charleston, W.V. Amtrak's "Lake Shore Limited" (Chicago to Boston and New York City) stops in Erie.
The Erie SeaWolves, Double-A Eastern League affiliate of the Detroit Tigers, play at UPMC Park (1995) in downtown Erie. UPMC is the University of Pittsburgh Medical Center.
Actress Ann B. Davis (1926-2014) grew up in Erie. She graduated from the University of Michigan.
The Bicentennial Tower, built in 1996 to commemorate the city's 200th birthday, has a 187-foot-high observation deck.
Presque Isle State Park, on a long peninsula near Erie, is Pennsylvania's most-visited state park. It has a marina and 13 beaches for swimming.
The borough of Edinboro (pop. 6,438), south of Erie, is the home of Edinboro University of Pennsylvania, a public university with about 6,000 students. It was founded in 1857 as a teachers' college.
NEXT: CRAWFORD COUNTY