Montgomery County (pop. 799,884), located just northwest of Philadelphia, is Pennsylvania's third-largest county in population. It is commonly known as "Montco."
It is one of 18 Montgomery counties, and one of the 14 named for Richard Montgomery (1738-1775), major general in the Continental Army in the Revolutionary War.
The county seat of Montgomery County is Norristown (pop. 34,324).
Longtime Los Angeles Dodgers manager Tommy Lasorda was born in Norristown in 1927.
The community of Glenside is the home of the Keswick Theatre, built in 1928.
Glenside is the home of Arcadia University, a private, liberal arts school with about 4,000 students, founded in 1853. Campus buildings include Grey Towers Castle, built in 1893 as part of a private estate.
In the community of Elkins Park is Beth Sholom Congregation, the only synagogue designed by Frank Lloyd Wright.
The community of Bryn Athyn (pop. 1,375) is the home of the Glencairn Museum, formerly a private home. It was built from 1928 to 1939.
In the community of Plymouth Meeting (pop. 6,177), the Church on the Mall is located within the Plymouth Meeting shopping mall.
The Three Stooges Museum is in the borough of Ambler.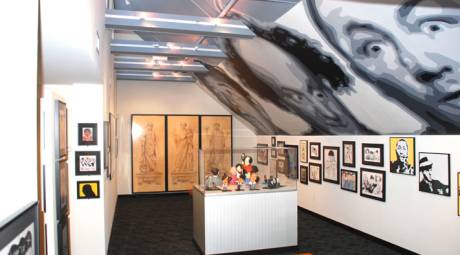 NEXT: BUCKS COUNTY